Team Management - Sharing your profile
You can grant access to others to access any of your profiles by using the Team feature. By adding others to your team, they will have access to all the applications that run on that profile.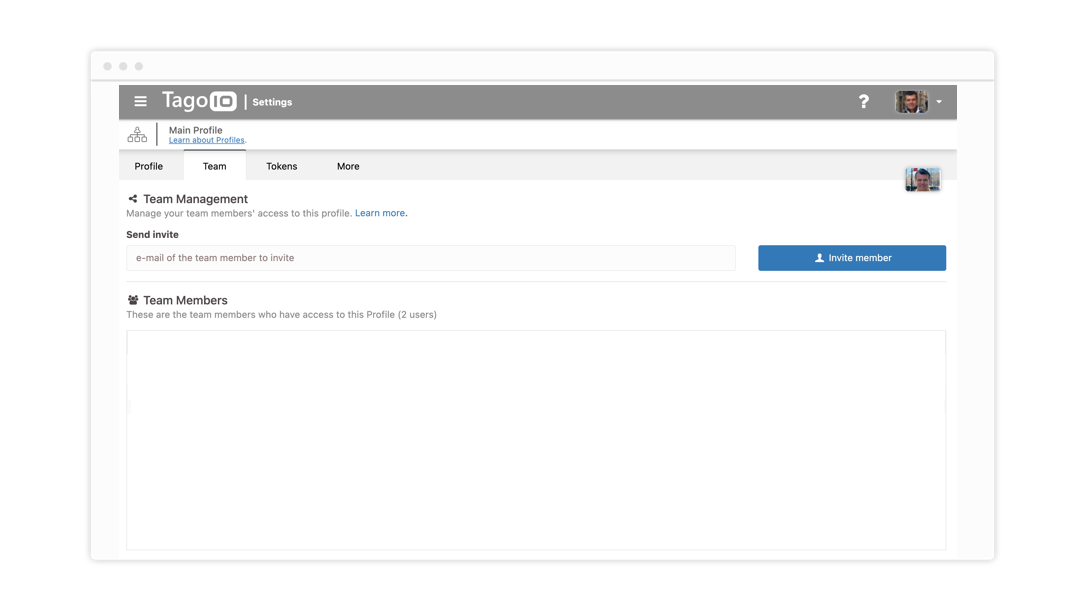 Only the owner of the Profile is able to invite members.
The number of members that you can invite for your profile will depend on your current plan. Check out the list of features available for each plan
here
.
You can always remove any given access by removing the email from the list.

Learn more about to add, share, and switch Profiles.

Related Articles

Sharing Dashboards

A great feature from TagoIO is its native sharing capability for dashboards, because we know that sometimes a dashboard can become an entire feature that you want to share. To share applications with your end-user using your brand and custom URL, ...

Chunk Management [beta]

The Chunk Management feature is a powerful tool that allows you to easily manage your data, either to create backups or delete information from your bucket. Chunk Management is only available for Optimized Device Data (Immutable) By accessing your ...

Profiles

Profiles are similar to having different sub-accounts under your own main account. You can create multiple profiles for persons or organizations and then share them with others. By doing this, you will continue to own the 'sub-account' while allowing ...

Creating a Sandbox

Sandbox refers to an isolated testing environment that enables developers to run applications without affecting other applications that have critical devices or users connected. Use sandboxes to test new applications with the confidence that they ...

Audit Log

Use this feature to keep up with all activities of a profile owned by you. Each activity as creating a new Device, updating an Access Management policy, updating an Analysis, and more, will keep a log and will be shown in the Audit Log. Filtering ...
Webinar Announcement - Image Only
Take a look at our updated roadmap here!
What would you like to see on TagoIO?